All tickets have now been sold and no further tickets will be released online.
You can still attend the grotto and join the "walk-in queue" however, you should expect to queue for up to an hour given how close we are to Christmas Eve.
We advise that you arrive as early as possible to avoid being disappointed as the queue does shut earlier than the advertised opening times to ensure that Santa, and his elves, depart for the north pole at the closing time.
Tickets are £6 and you pay for the ticket once you get to the front of the queue.
Opening times
Saturday 18.12.21 – 10am – 4pm
Sunday 19.12.21 – 10am – 5pm
Monday 20.12.21 – 10am – 5pm
Tuesday 21.12.21 – 10am – 5pm
Wednesday 22.12.21 – 10am – 5pm
Thursday 23.12.21 – 10am – 5pm
Friday 24.12.21 – 10am – 2pm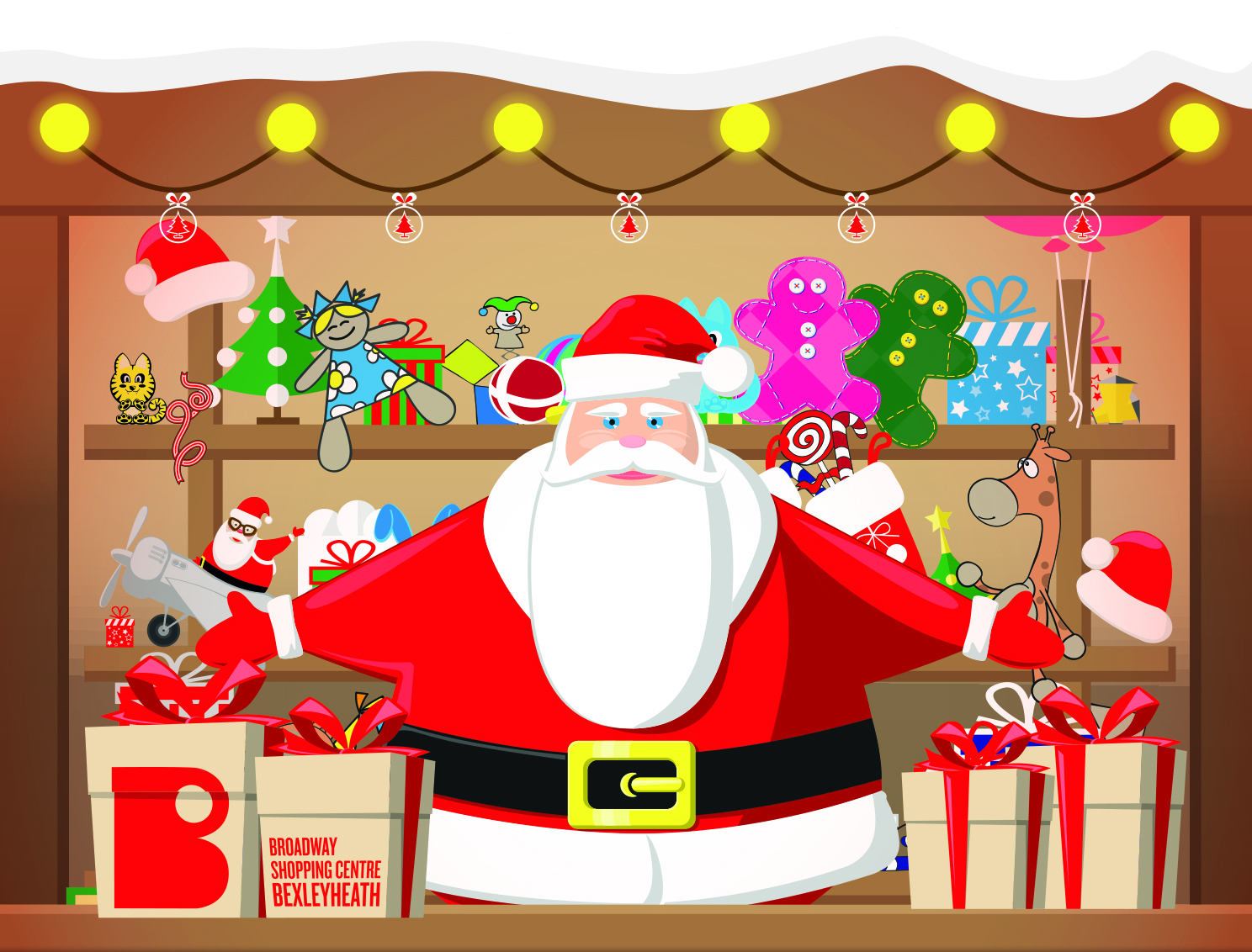 Charitable donation
The Broadway Shopping Centre, Bexleyheath, are pleased to announce a continued partnership with Bexley Foodbank and will donate 50p from every booking to this fantastic charity.

FAQs
Covid-19 safety measures
Hand sanitisers will be located at the entrance and exit. The Grotto will be regularly cleaned with antibacterial spray and the touch points will be cleaned after each visit. The photos with Santa will be done in a way that adheres to the Government guidance in place on the day of your booking and we have limited the party size to a maximum of four. We will be complying with all Government guidelines at all times.
I am not able to attend on the day of my visit?
As per the terms of your booking, refunds are not available in any circumstance. If you contact us via email (info@booksantanonline.co.uk) at least 48-hours before your booked time we will try and accommodate you to another day/time but this is subject to availability.
I have Covid-19 symptoms and/or have to self isolate on the day of my visit?
Please do not attend the grotto if you or anyone in your party intending to visit the grotto has any symptoms of Covid-19 and/or have been asked to self isolate. If you arrive at the grotto with coronavirus symptoms you will not be allowed to enter the Grotto and you will not be entitled to a refund.
Please contact us via email: info@booksantaonline.co.uk as soon as you can and we will try to help (subject to availability).
Can amend my booking?
No, once booked no amendments can be made. Please email info@booksantaonline.co.uk if you have any queries about your booking.
Do I have to pay for a baby?
Yes, the presents are all age specific and are suitable from birth. If your baby is not seeing Santa and is to remain inside the buggy throughout then they can come through but will not receive a present or be able to be in the official photograph.
Photography
Personal photography or recording of any kind is not allowed inside the Grotto. We have a professional photography team onsite who will offer the chance to purchase a photograph with no obligation to purchase.
Do you have to book online?
No. Whilst we advise you to Pre-book it is not necessary as you can turn up on your preferred day and join the queue.
What do I need to bring with me on the day?
You will need to bring a print out of your confirmation email. If you can't print this out then all you need is the adults name provided at the time of booking and the reference number.
I have not received my confirmation?
Please be sure to check your junk folder. You will also have received an SMS text message at the time of booking.
Can I book for more than three children?
Following our risk assessment in light of the Coronavirus pandemic we have chosen to limit the numbers of person inside the grotto to a maximum of six which include Santa and the photographer. If you want to book for more than three children you will have to make an additional, separate booking which is subject to availability at the time of booking.
Where do I go when I arrive at the Grotto?
There will be a queuing area for pre-booked visits which will be sign posted on your arrival.
Are we allowed to take pushchairs in?
Yes. Our doors are wide enough for most single pushchairs to fit through. If you aren't able to fit your pushchair through then you will have to leave it outside the grotto with a responsible adult as we can't be responsible or liable for any loss or damage.
How long before my allotted time should I arrive at the Grotto?
You should arrive no more than 15 minutes before your time slot and walk straight to the pre-book queue entrance.
Does the grotto have suitable wheelchair access?
Our doors are wide enough for most wheelchairs to fit through. This should be mentioned in the special requirements box when purchasing the tickets so that we can notify our staff on the ground.